You can also see this page with links instead of embedded images. This page will take much less time to load: linked image version
---
- May 5, 2002: Start at the Pacific Ocean

Santa Cruz, California: Today I started the first leg of my cross
country bike ride. Grete Johnson joined Carol and me at our house and
we then drove to the beach near the yacht harbor in Santa Cruz. The
morning was cold and damp from the early morning fog as Grete and I took
our bikes out to the surf line on the beach. Carol and Grete took
pictures, then Grete and I started off on the first leg of my cross
country ride. We rode along some city streets, out of town on
Branciforte and then turned up Glen Canyon to get to Scotts Valley.
Glen Canyon was a very pleasant climb. We took Bean Creek to circumvent
most of Scotts Valley and found it to be a beautiful ride. We proceeded
on Glenwood to Mtn. Charlie and started climbing. As always, Mtn.
Charlie was a worthy climb but the weather was nice and the steep parts
didn't seem too bad. We had hoped to join Paul Metz's Mtn. Charlie ride
but got there too late. We did take advantage of his ride to earn
credit for Mtn. Charlie as a Billy Goat, however! Grete rode with me
until we reached Summit Road, then I continued alone on down the other
side of Mtn. Charlie to Old Santa Cruz Highway. I made good time down
OSCH (much easier and faster downhill), along Alma Bridge Road to
Lexington Dam and safely down the trail below the dam. I was able to
ride all the way along the trail, though it was a little risky in the
steep, unpaved places. Going on into Los Gatos, then San Jose, I took
Tully past the fairgrounds where I saw thousands of people going to a
Cinco de Mayo event there. Tully the opposite direction (westbound?)
was bumper to bumper all the way past 101 with folks in cars decorated
with Mexican flags on their way to the fairgrounds. The ride to the
east valley was uneventful, and I soon got to the corner of Alum Rock
where I had previously started the climb up Mt. Hamilton on the Mt.
Hamilton Challenge. Carol drove down and picked me up.

on the first day.




Paul put his back tire in the Pacific Ocean in Santa Cruz
Carol and Paul
Paul and Grete
---
- April 27: Mt. Hamilton Challenge

The second segment of the cross-country trip was really done first.
I rode the 130 mile circuit called the Mt. Hamilton Challenge. The
part of the Mt Hamilton Challenge that constitutes part of my
cross-country ride is from the start of Mt Hamilton Road in San Jose
to the intersection of Mines and Tesla Roads in Livermore. Ken
Koach, Jon Kaplan, and I started riding at 6:15AM from the start in
Sunnyvale. As we started, the fog turned from a light mist to more of
a drizzle so we were getting wet. We got to Mt Hamilton road at 17
miles, and at 18 miles I got a leg cramp that made me stop to work it
out. It continued to drizzle most of the 35 miles to the top, so
that by 10:00 AM when we got there we were soaked and COLD! I got my
PB & honey sandwich and ate it, and I refilled my bottles like I had
started--1 Accelerade and 1 Endurox. My bike thermometer read 41
degrees, my feet were numb, my gloves and helmet were wet, yet we
continued on anyway. Going down the backside of Mt. Ham was fairly
slow, due to wet pavement; yet the weather got much better at Isabel
Creek, with some sunshine and no drizzle. We continued up Eylar ridge
toward rest stop 2. I had forgotten how much climbing there is from
the Junction toward Livermore! I ate my tuna sandwich and banana,
but left the PBH on the table as "extra" food. When I started out
again, my butt was so sore that I could hardly sit down for awhile!
It must have been numb before the rest stop. The nice downhill into
Livermore was somewhat slower than I have ridden it before, partly
due to wind and partly just due to caution. We had wind most of the
time for the last 70 miles of the ride, almost none as a tailwind!

---
- May 10: Livermore


Day 3--Start in Livermore: I started riding at 11:00 am from the
intersection of Tesla and Mines roads, where I had been on the Mt.
Hamilton Challenge. Climbing Corral Hollow was not very difficult, and
I soon enjoyed the downhill and flats. We stopped for a picnic lunch
at the Ripon city park. We made a few wrong turns, but we eventually
found the way. Carol drove ahead on 28 Mile Rd. and discovered that the
pavement turned to dirt, so she stopped at a farmhouse to ask
directions. While talking to the elderly lady there, one of the four
dogs bit her on the back of her thigh, actually breaking the skin and
causing a big bloody bruise. The lady appeared horrified, and gave
Carol her name and phone number. Carol was assured that the dogs all
had their shots, so she just left. The old lady told Carol the dirt
road was three or four miles long. I decided to try riding it, because
to detour around it would require many extra miles. It was fairly hard
dirt with only a few ruts, but there were many large rocks that made
riding rather rough and difficult. Fortunately it was only 1.5 miles
long. At 5:30 I put the bike in the van at the intersection of Milton
and Hwy. 4 after riding about eighty miles. There had been a fairly
steady wind much of the day, often crosswind, sometimes tailwind, and
toward the end of the day mainly a headwind. We drove about 25 miles to
Stockton where we had a good Mexican dinner, then stayed the night in a
motel.



California Vineyard
---
- May 11: East of Stockton

Day 4-Start east of Stockton: We ate breakfast at a unique place called
Hoosier Inn, which had numerous antiques and sayings painted all around
the old rooms. Breakfast was good, filling and reasonable. Riding
today started out like yesterday ended-with a fairly strong headwind.
Our first destination was Pardee Dam; however, there were many miles of
headwind before I finally got there. The hill on the far side of the
dam was steep, and the road beyond the dam on the way to Jackson was
also hilly. I was getting rather tired when I finally got to Jackson,
but I continued onto Hwy. 88 since I had passed Carol who had stopped to
do some watercolor painting just before the downhill into Jackson. She
caught up with me a few miles up 88, so we both stopped to eat lunch.
After lunch Carol went looking for places to camp. She found a state
park not far beyond our lunch stop, but we decided we didn't want to
stop that soon. After searching for other campgrounds and checking out
three mountain inns, we decided to stay at Deer Ridge Inn, east of the
town of Pioneer. The decor was in antiques and a_ Gone With the Wind_
collection. I had ridden 58 miles, climbed over 6000 feet, and I was
just plain tired!



Ready to Ride
Gone With the Wind
---
- May 12: Carson Pass
Day 4-Start east of Pioneer-Mother's Day: We started the day with a
cereal breakfast in the room since none of the inns served breakfast. I
wore my bright orange jersey, and noticed that cars seemed to give me a
wider berth than normal--so perhaps orange is safer. At around 6000 feet
we started seeing snow in some of the tree shaded areas, and around 7000
feet there was sometimes snow right near the road. Around 26 miles
into the ride I picked up a wallet with a military ID, several credit
cards, and phone cards. Several other cards of various types were
strewn along the side of the road for several yards. Within about a
mile I flagged down a BLM District Ranger and gave it to him.. We ate
tuna sandwiches at Kirkwood meadows, turnoff to Kirkwood ski area.
Finally I made it to the top where there is a plaque commemorating the
tree on which Kit Carson carved his name and the date. Carol took
pictures, then I started the exhilarating downhill. It was around 15
miles with very little uphill, and many sections where I could coast at
a good speed with no breaking needed. We turned left shortly after
Woodlands onto Emigrant Trail. The road was good with minimal rollers,
but the headwind was constant and often vicious. We crossed the
California/Nevada line, which on this road was marked only with a line
on the road. By the time I reached Genoa, about 18 miles past
Woodfords, I was very tired trying to fight the headwind so I decided to
stop. We drove a short way to the Mormon Station Historic State
Monument which had picnic tables and a nice restroom, and had a crockpot
dinner that Carol had made. Then we drove about 15 miles into Carson
City and got a room at a Super 8 motel. Stats for the day were 74 miles
and 7080 feet of climbing-a lot more than the 5000 feet I had expected!


Carson Pass Road
Whee!
Carson Pass Summit
---
- May 13: Genoa, Nevada
Day 5--Start in Genoa, Nevada: We got up fairly early, got ready, and
went next door to one of Grandma's cafes for breakfast. After a big
plate of 5 pancakes with hot blueberry topping I was ready to ride! We
started at the Genoa Post Office. This morning the wind was minimal,
sometimes even a slight tailwind, so it was much easier pedaling into
Carson City than it would have been yesterday afternoon. The route took
me right down town, past the state buildings-this is the state capital
after all! The traffic was not heavy, but there wasn't a lot of room
for cars to pass on some of the downtown streets. I soon turned onto
Hwy 50 where we will be spending many miles through Nevada! Just
outside of what must be the city limits I saw a sign pointing down a
side road. The sign had three separate but similar signs on it. One
said "Kit Kat Ranch", one said "Kitty Ranch", and one said "Sagebrush
Ranch." Interesting ranches it seems. I didn't take the road. A
short distance outside town there was some road construction where one
of the traffic control gals asked me where I had gotten my bright orange
bicycle jersey-she really liked it! I was then able to really put on
the miles because of a very nice tailwind. The scenery was getting more
arid like, with mostly sagebrush and sand. It was mostly flat with some
long but mostly gentle climbs. The temperature was still nice, but it
was getting rather warm in the sun with no shade anywhere. We did find
a lake with a few trees for shade for our lunch. I then pedaled the
final 20 miles into Fallon where I met Carol. We started the drive back
home, leaving there around 2:30 pm. We got home about 6 hours later.
Stats for the day were 75 miles, 1700 feet of climbing, and an amazing
19.1 mph average speed thanks to the great tailwind and minimal climbing.



Highway 50, The Loneliest Highway in the World
Picnic Lunch Beside the Reservoir
---
- Memorial Day: Fallon, Nevada


After a two week period during which we returned home to oversee our PV
solar panels being installed, we were able to resume our cross country
trip. We drove to Fallon, arriving a little after 3 pm, then I started
riding about 3:30, while Carol did a little exploring in the downtown
area. There was a tailwind at first, so I was making good time. The
countryside rapidly goes from irrigated greenery to desert, including
what looked like a dry alkali lake bed that the road went through. We
passed an area called sand mountain that looked like a giant sand dune,
and appeared to be a recreation area for off road vehicles. The
Adventure Cycling map says "Nevada is extremely dry and has no shade
except for three trees east of Fallon." That may be a slight
exaggeration, but there sure isn't much shade! It does say one thing
that is true though, "US 50's shoulders have deep rumble strips, usually
centered in the middle of the shoulder, making them almost useless for
bicyclists." A mile or two past Middlegate I saw a large cottonwood
tree that appeared to have something hanging from the branches. When I
got to the tree, I saw that it had hundreds of shoes hanging all over
the tree from the lowest to the highest branches. There was an old sign
on the tree that read "Shoe Tree." We drove back about 10 miles to stay
at a $25 motel in an historic place called Middlegate Station, once a
Pony Express stop. Stats for the day were 58 miles, 2320 ft of
climbing, and an average speed of 18.1 mph.



Middlegate, Nevada
Shoe Tree
---
- May 28, 2002: Middlegate, Nevada


The wind was fairly calm early and I made reasonable time. The wind in
the Nevada desert is fickle and sometimes fierce. It can change from
nearly nothing to a strong crosswind to a headwind within a minute, and
"yippee", maybe even a tailwind. Occasionally the wind would instantly
come out of nowhere and blow like crazy causing my bike to swerve and
wobble, then subside fairly soon to little or nothing again. By the
time we got to Austin at 53 miles in early afternoon, it was rather hot
in the bright sun. Austin is an old mining town of 300 population, way
down from the 10,000 it had in the heyday of mining. Whereas I had
ridden many miles in relatively flat country, they chose to build Austin
just above the flat area in some rather steep hills, somewhat like San
Francisco. There is a mountain bike store there which advertised frozen
yogurt, so because of the hot temps I stopped to have one. While I was
there, Carol drove past without seeing me, even though I ran out toward
the road waving my arms and whistling to get her attention. I didn't
see her again for 21 miles, where she had waited for me, guessing that
she must have passed me. The road leading out of Austin is about a 6%
grade with a series of switchbacks to the Austin Summit at 7,484 ft,
worthy as a Billy Goat. I slowly climbed to the top, then enjoyed a
downhill followed by another climb to a 7,195 ft summit. After a long
drop into the next basin, I climbed to Hickison Summit at 6,594 ft. We
spent the night at a Forest Service campground where there was no water.
Stats for the day were 86 miles, 5220 ft of climbing, and an average
speed of 14.6 mph.


Carol relaxing at campground
---
- May 29, 2002: Start 35 miles east of Austin, NV


We got up fairly early again, with neither of us very rested due to the
van being parked on a slope which caused both of us to slide toward one
side of the van all night. After breakfast we walked around the
petroglyphs which were near the campground. I started riding a little
after 9 am. The terrain was similar to the previous two days, and
typical of the Nevada Great Basin area. One after another, basin then
mountains, basin then mountains, basin then mountains. The road is
often straight as a string, and at the top of one mountain pass I could
see the road dropping down into the basin then rise again on the far
side until it disappeared over the next pass. I climbed 3 passes at
7,351, 6,521, and 7,438 feet. We had a nice lunch that Carol fixed
which we ate in the Eureka town park. I took advantage of the
sprinklers to cool my feet and soak my jersey. However, the cooling of
the wet jersey didn't last long due to the low humidity and high
temperature. As the temperature was rising I soon realized I was going
slower and slower. On the last pass I had to stop two or three times
due to heat, fatigue and the ever present sore butt! After the last
pass I enjoyed the long downhill then decided to quit before I fell over
from being so tired! We drove on in to Ely, NV where we found a very
nice Motel 6 for the night. Stats for the day were 82 miles, 3700 feet
of climbing, and an average speed of 14.8.



Petroglyphs at campground
---
- May 30, 2002: Start 30 miles east of Ely, NV


Today I was somewhat apprehensive about how much riding I could do due
to my being so tired yesterday and to my very tender rear end. However
after a good breakfast of a stack of half-inch thick pancakes we got in
the car to drive to where I quit yesterday. I started riding around
9:30 am, and was very discouraged to have a head wind from the start. I
battled the wind most of the way into Ely arriving around noon. I went
into the only bike store in town, which was actually just a corner of a
large sports store primarily slanted toward hunting. I was having a
problem with the front wheel being out of true to the extent that the
tire seemed to be hitting the fork. The "mechanic" put the wheel into
the truing stand, turned the spoke wrench only a quarter turn and the
rim seemed nearly perfect. He didn't even charge me for it. When I put
the wheel back on my bike I realized that the tire was most of the
problem, so I had to slightly tilt the wheel to make it turn without
rubbing on the fork. We had earlier decided to stay in Ely another
night so we went back to the motel and had a lunch that Carol made. I
took the opportunity to soak my feet in cold water to help my burning
feet. After lunch I went back on the road while Carol stayed in the
motel awhile before she followed me. The story for the afternoon was
WIND! It seemed to be mainly a cross wind, though it often had some
head wind component. Even as a cross wind though, I had to fight it to
the extent that I would loose 5 mph when the wind was brisk. It seemed
to have a devilish character such that when the road curved which should
have resulted in a tailwind, the wind shifted to maintain a headwind!
After climbing to a 7,722 foot summit I had a great downhill, most of it
with a tailwind! While Carol was waiting at the end of the day,
Reginald Rabbit became assistant flagman to Karen, the flag woman.
Stats for the day were 76 miles, 3480 feet of climbing, and an average
speed of 14.9 mph.




Reginald the Rabbit is assistant flagman to Karen.
---
- May 31, 2002: Start 16 miles east of Majors Junction, NV


I didn't start riding until 11:15 am! It was already quite warm, and I
had Sacramento Pass at 7154 feet to climb. I had a slight
cross/tailwind until I reached the summit, and then I hit a headwind.
That turned out to be the essence of the day-WIND!! The whole rest of
the day the wind was constant, never ending, persistent, always there,
unrelenting, continuous, determined, ongoing, long lasting, and never
quit!! Even though most of the time it was not a direct headwind, I'm
sure it cost me at least 3 to 5 mph plus much physical and mental
effort. I finally turned off Highway 50 (HURRAY!), crossed from Nevada
into Utah, passed Great Basin National Park, and got about 35 miles into
Utah. Highways 487 and 21 in Utah were essentially deserted.
Unfortunately, the basin to mountain to basin to mountain routine didn't
change, there was just the added challenge of constant WIND! The wind,
warm temperature, and dry air drained my energy. Once I stopped by a
lake and doused my jersey to cool off, but within about 10 minutes the
jersey was dry! I finally succumbed to the wind and stopped at 60
miles, with 2510 feet of climbing and an average speed of 14.4 mph.
Even with the reduced climbing the wind cut my average speed! We drove
on in to Milford, got a nice motel and had a great crock pot dinner that
Carol fixed.


Welcome to Utah!
---
- June 1, 2002: Start 43 miles west of Milford, Utah


We drove out to where I quit yesterday and found conditions the same or
worse-the wind was blowing like a hurricane! Trying to ride was
extremely difficult and frustrating. However, we developed a method of
pacelining in which Carol would drive the van and I would ride next to
or behind it and were fairly successful in avoiding the wind.
Fortunately traffic was essentially nil. We continued the paceline
method until a rainstorm complete with lightning and thunder forced us
to pull off the road so I could jump inside. Being the highest point on
the road with lightning around didn't appeal to me. We took advantage
of the storm to have lunch, after which the storm had cleared up and I
was able to ride without the paceline while climbing Frisco Pass. I was
able to ride most of the rest of the way into Milford without the
paceline, but the 16 miles on into Minersville had a lot of headwind
that was very strong so we again used it. At mile 51 I got my first
flat-caused by a small thorn. Beyond Minersville the road turned almost
directly into the wind all the way into Cedar City, so I decided to quit
for the day and hope that the wind would die down by tomorrow. Scenery
along the route was rather barren with some interesting old mines and
buildings in the mountains. A majority of the basin area is open range
with cattle grazing any place they want. There are many Open Range
signs, but we saw at least three dead cattle which were road kill. One
in particular told a story, or at least one can imagine a story! Put
together a black cow, a black road, a cowboy driving his pickup at high
speed on a dark night, and you end up with a dead cow and a smashed
front end on the pickup! No sign of the cowboy. Stats for the day were
59 miles, 4750 feet of climbing, and an average of only 12.8 mph due to
the bad winds.



Dead Cow
---
- June 2, 2002: Start in Minersville, Utah


Today we drove to Minersville where I quit yesterday due to the bad
winds. Fortunately the wind was calm this morning. The ride started
with a climb, but that was almost enjoyable without having to fight
winds. I reached the summit at about 10 to 12 miles, but by then the
wind had picked up and I still had about 30 miles to Cedar City. (The
average speed of my initial climb today was higher than I could average
going downhill yesterday in the terrible winds!) The last 10 miles to
Cedar City I had essentially a direct headwind, probably 20 to 30 mph.
Due to heavier traffic, pacelining with Carol was not feasible so I just
had to grind it out. Finally we got to Cedar City and met Priscilla and
Rich Burchby, former Almaden Cycle Touring Club members who moved from
the Bay area to Cedar City a few years ago. We had an enjoyable lunch
with them and a tour of their beautiful house. Their lot borders BLM
land and provides an overlook of most of the city and the surrounding
mountains. Rich showed us the torch he used as an Olympic Torchbearer
for the Salt Lake Winter Games in 2001. It is very impressive! We
finally had to bid them farewell in order to get some more miles in
before dusk. I began the long climb eastward toward Cedar Breaks
National Monument and rode 10 miles with some sections of 8% grade. I
quit about 5:30 feeling good that my climb tomorrow will be easier
having the first 10 miles completed. Stats for the day were 50 miles,
4140 feet of climbing, but only 11.6 mph average speed due mainly to the
strong headwinds.


Rich Burchby's Olympic Torch
---
- June 3, 2002: Start 10 miles east of Cedar City, Utah


This morning we drove 10 miles up the long climb to the turnoff for
Cedar Breaks Natl. Monument where I resumed riding. On the way I found
a plastic wallet insert with a Visa card, Social Security card, and many
other cards and pieces of paper spread around a large area. I hunted
around and picked up what I could find, noted the location, and started
riding again. I began seeing Aspen trees at the higher elevations. The
temperature was getting colder, but with the climbing I didn't need any
jacket. I reached the Visitor Center at about 10,300 feet elevation,
and Carol and I went to the viewing area and got some pictures. We then
proceeded toward the north end of Cedar Breaks, climbing up to 10,600
feet along the way. The clouds had been very dark and threatening, and
it finally started hailing just when I was ready to start downhill to
Panguitch. I got in the car to wait it out, so we had lunch. I finally
decided to start riding again so as to get to lower levels where it
might not be hailing, or even raining. However, as I was starting it
resumed hailing. I continued for a couple miles or so but the road was
wet, covered with hail in some places, and I was starting to get very
cold. So I decided to quit and hope that tomorrow would bring better
weather. We drove on into Panguitch and got a motel. Before dinner I
called the owner of the wallet insert and cards I found, and I talked to
his wife. She was thrilled I had found it, and asked that I mail the
items to them. Although I rode only 20 miles, most of it was up hill so
I had 3270 feet of climbing with an average speed of 8.3 mph.




Carol & Paul at Cedar Breaks
Hail on the windshield
---
- June 4, 2002: Start 28 miles west of Panguitch, Utah

What a difference a day makes! Today was cool and clear with no rain or
hail! We had a good breakfast at bargain prices. I had some buckwheat
pancakes and Carol had a HUGE cinnamon roll, about 6 X 6 X 2.5 inches in
size. She could only eat about half of it. We drove to my ride start,
I put on my arm warmers and rain jacket due to the cool temperatures
near 10,000 feet, and started riding. Although it was downhill, many
places I had a headwind that slowed me somewhat. We rode through
Panguitch, then headed for Red Canyon where we ate lunch on the way to
Bryce Canyon. After Panguitch I enjoyed a partial to full tailwind of
20 to 25 mph all the rest of the ride. I passed by the turnoff to Bryce
Canyon and rode on to Cannonville, UT, where I quit. We drove a few
miles back to Tropic, UT where we got a nice motel, then drove back to
visit Bryce Canyon National Park. We drove to and walked around the
main viewing spots, then had a delicious dinner in the Bryce Canyon
Lodge to celebrate Carol's birthday. The serving crew asked everyone in
the dining room to join them in singing Happy Birthday to Carol. We
then went to the Visitor Center, looked in some gift shops, then headed
back to the motel. Stats for the day were 62 miles, 2040 feet of
climbing, and an average speed of 17.2 mph due to the downhills and
tailwinds.



Bryce Canyon
---
- June 5, 2002: Start in Cannonville, Utah


I started riding with a slight tailwind, but the direction changed
often. Fortunately there was never a sustained high wind. The
temperature started climbing and reached the high eighties. There was a
lot of climbing of somewhat steeper grades. After crossing the
Escalante river a very long climb up The Hogback began, with grades up
to 14%. I soaked my jersey in the river before the climb, and this time
it didn't dry out for about a half hour. The road was cut out of bare
rock in some places, and the reflection of the sun off the rock made the
climb very hot. Along the Hogback I came upon four people who had
gotten out of their car to enjoy a view. As I passed by they all
clapped and one man said a couple phrases to me in what sounded like
some European language. Perhaps Europeans appreciate seeing a cyclist
on the open road. After the steep part of the climb the Hogback
continued to go up and up more gradually until I reached Hell's Backbone
Road (a dirt road which I didn't take.) There was some downhill but
still more climbing into Boulder, Utah, where we got a motel. I then
rode some more because there was still around 2,600 feet of climbing to
get to the summit and I wanted to get some of it done. Around 5 miles
further I got a flat, and since I was also tired I decided to quit.
Stats for the day are 66 miles, 5,600 feet of climbing, and an average
speed of 12.5 mph.


Paul riding the Hogback
---
- June 6, 2002: Start in Boulder, Utah


Today started off with a giant breakfast. I ordered a full stack of
three pancakes and the waiter and the cook were joking about never
seeing anyone finish a full stack. Well, it turned out they were good
pancakes so I finished the stack. The waiter and cook were both
surprised and "rewarded" me by giving us a 10% discount on the
breakfast. We then visited the Anasazi Museum and archeological dig of
a small Indian village-which by the way had a larger population than the
present day town of Boulder at the same location! I finally started
riding about 10 am with a long climb facing me. The climb seemed
endless but was never steeper than about an 8% grade. The downhill
seemed to have enough uphill sections plus wind to make it tough.
Finally I reached the end of Hwy 12, all 120+ miles of it, which started
before Bryce Canyon. I turned eastward again at Torrey and headed
toward Capitol Reef National Park. The Capitol part of the name was
given by early Mormon settlers because the shape of the petrified sand
dunes reminded them of the Capitol dome. The Reef part of the name is
based on the nautical meaning of reef as an obstacle which is
impassable. The geological reef is 100 miles long, even now crossed
only in a few places. At the park, I put the bike in the van and Carol
and I drove a 10 mile scenic road and back. It is somewhat similar to
Zion Park and I would guess may eventually become as popular. It even
has Cassidy arch named after Butch Cassidy who allegedly spent some time
in the area. After visiting the Visitor Center I got back on the bike
around 5:30 pm to ride the last 20 miles into Caineville, UT where we
got a motel. Stats for the day are 62 miles, 3640 feet of climbing, and
an average speed of 13.9 mph.


Capitol Reef National Park
---
- June 7, 2002: Start in Caineville, Utah


Today I had great expectations for a long ride. The wind was calm, it
was warm but not too hot. I rode a couple miles to the only café in
town where we had breakfast. I got back on the road around 9:45 and
headed for Hanksville, UT, about 17 miles away. It was getting rather
warm and I had worked up a good sweat by the time I got there, but I was
making good time. The route turned south but that seemed to be no
problem today like it had been before when severe winds had buffeted
me. I was climbing some but making good time when at 11:24 the
crosswind hit me like a tornado out of hell! My speed immediately
dropped 5 to 10 mph, even though I was pedaling twice as hard. At one
point the road crested and curved such that I expected at least a
partial tailwind, but as I passed over the crest I was hit by a direct
headwind! The diabolical wind had shifted again. When I checked the
temperature, my cyclocomputer said 100 degrees F. Needless to say, I
was hot, tired, and very discouraged that even when I was in the drops
to avoid the wind and pedaling hard I could only maintain around 6 or 7
mph. It continued to be primarily a headwind so I stopped for lunch
about 1 pm. The wind appeared to be increasing, the temperature was
climbing, and I was tired, so we decided to drive back 20 miles to
Hanksville, UT and get a motel even though it was still quite early.
Stats for the day are 39 miles, 1620 feet of climbing, and an average
speed of 14.1 mph.


June 8, 2002: Start 20 miles southeast of Hanksville, Utah


We wanted an early start today to avoid the high winds, so we ate cold
cereal in the room for breakfast before the cafes opened. I started
riding at 6:30, but even then there was a fairly strong breeze
blowing. The first 18 miles were mostly downhill, so with pedaling
steadily I was able to average about 18 mph. The scenery was
spectacular, with massive red stone bluffs towering on both sides of the
road. By the time I reached the Glen Canyon National Recreation Area
and crossed over the Colorado River the wind had increased somewhat but
was still less than yesterday. I started climbing the other side of the
river and slowly ground out the miles. The climb was fairly gradual,
with the grades usually below 8%, but the wind was again a discouraging
factor. The side wind I think is maybe worse than a direct head wind,
because a side wind causes me to lean into the wind and to wobble and
swerve as it varies in direction and intensity. A head wind I can avoid
to some extent by using the drops or the aerobars, and I don't have to
lean over. Of course, neither is desirable. I wanted to get as many
miles in as possible before lunch, so I rode until about 1 pm, when I
had 60 miles. We ate lunch in the van, then drove to Natural Bridges
National Monument. The three natural bridges that can be seen were all
carved by streams, and are very spectacular but not easily seen or
appreciated without hiking down to get a better perspective of their
size. The Visitor Center and offices are powered by a 50 KW solar farm,
which was the largest in the country when it was installed in 1980. By
the time we left the park the wind had increased in intensity enough
that I didn't want to fight it any more so we drove to The Fry Canyon
Lodge to get a room. Stats for the day are 61 miles, 4220 feet of
climbing and an average speed of 12.3 mph.



Paul riding near Glen Canyon
Natural Bridges National Monument
---
- June 9, 2002: Start 10 Miles East of Fry Canyon, Utah

Well this morning we had an early breakfast in the motel room then
made our escape from the "motel from hell" to drive 10 miles to where
I started riding. I was on the road before 6:30 to again try to
avoid the terrible wind. Although the wind was still or already
blowing, it was only around 15 mph, and the temperature was actually
on the cool side. There was no traffic that early on Sunday, and I
made fairly good time although I seemed to be climbing all the time.
After about 40 miles the route turned northward so I had a tailwind.
We got to Blanding around 10:30 or so, and we could see clouds of
dust caused by the wind. We stopped to eat-I had breakfast and Carol
had lunch. When we came out of the restaurant, the wind was really
blowing hard and the sky was filled with dust. Since my route
continued north, I decided to take advantage of the tailwind and ride
to Monticello, UT. The road continued to climb quite a bit, but it
wasn't so bad with the 20 to 30 mph wind at my back! There are
mountains close to Monticello but the visibility was so bad that we
couldn't see them. The route turns east at Monticello, so with such
a bad crosswind and a fair distance already completed I decided to
stop for the day around 12:30. Stats for the day are 65 miles, 6000
feet of climbing, and an average speed of 13.9 mph.


Wind and Dust!
---
- June 10, 2002: Start in Monticello, Utah


After the severe winds and dust storm of yesterday, I decided to again
start early in hopes of avoiding the wind. I started riding from the
motel before 6:30 with only a light breeze blowing. I was making good
time even though it seemed the road was just a series of hills and
valleys, requiring climb after climb. I crossed the Colorado border
within an hour, and Carol took the required pictures of me by the
Welcome to Colorado sign. It seemed like the terrain changed from
mainly brush and cattle ranches to mainly farming within a fairly short
distance, with Colorado being much more "green" than Utah. I had gone
40 miles by 9 am, and the breeze had not been a problem. Shortly before
I reached Dolores, CO, we stopped at the Anasazi Heritage Center. It
has many displays, artifacts, and instructional exhibits about the early
Indians who inhabited the area then inexplicably disappeared. We had
lunch, then I continued riding. I hoped to get beyond Dolores as far as
I could go so as to reduce the climbing required to get over Lizard Head
Pass tomorrow. Fortunately the grade was not steep and I was able to
maintain a good pace, so I made Rico my goal for the place to stay for
the night. It is about 44 miles past Dolores so I didn't expect to get
there but I wanted to get as far as possible. I was feeling fairly good
and the wind was either not a problem or even a tail wind sometimes so I
just kept going and going. I finally reached Rico at 97 miles, so I
decided to ride three more miles in order to get a century. I finished
about 3:30 pm and we went back to Rico and searched for the only motel
in town to get a room. Stats for the day are 100 miles, 5410 feet of
climbing, and 15.4 mph average speed.


Welcome to Colorful Colorado!
---
- June 11, 2002: Start in Rico, Colorado
With the wind threat diminished somewhat, we started a little later.
I started riding about 7:30 with the temperature a little brisk at 47
degrees, but then that is not unusual for 8800 ft elevation. The sun
was warm and of course the climbing warmed me up. The grade was not
steep, but it was a long climb to the 10,250 ft summit of Lizard Head
Pass. I dropped down to Telluride then further down to Placerville
(pop 66), then again started climbing finally reaching the Dallas
Divide summit at 8,970 feet. The scenery in this area is spectacular
with several peaks over 14,000 feet in the glacier formed mountains.
It was downhill nearly all the way to Ridgway, where I turned north
toward Montrose. The last few days the wind was out of the south,
but today it was out of the north so I had to fight it all the way to
Montrose! We stopped at a motel about 2:40. I had to replace the
rear tire because it had developed a slight bulge/warp that would go
thump, thump, thump as I rode, just like the front tire had done
earlier. At least I got 1450 miles out of the rear tire, whereas I
only got 750 miles from the front. I must have run over a piece of
chewed bubble gum today, so I also had to spend a long time cleaning
bubble gum off my tires, spokes, brakes, frame, etc. Stats for the
day are 85 miles, 4400 feet of climbing, and 15.1 mph average speed.


Carol at a Lizard Head Pass View
Paul riding through Ridgway, Colorado
---
- June 12, 2002: Start in Montrose, Colorado

Based on a quick glance at the map last night I thought today should be
a pleasant, fairly flat 65 mile ride to Gunnison, CO. I started about 8
am, a little later than the last few days, since the forecast didn't say
anything about high winds. There was a gentle slope as I rode east on
Hwy 50, but it seemed to continue without leveling out. Then it got
steeper, and when I saw a sign saying 4 miles to Cerro summit I looked
closer at the map. Sure enough, it was there, with an elevation of
about 7,900 feet. Well, I figured, that should be it for the climbing
since I didn't see any more summits on the map. WRONG!! No more
summits were marked, but there was more climbing with two summits of
around 8,500 feet. However, the scenery was great and the weather was
beautiful. Sunshine, no clouds, moderate temperature, and what wind
there was seemed to be a tail wind. I rode past and over the Blue Mesa
Reservoir, the largest reservoir in Colorado, and was happy to realize
that the wind had gotten stronger but was still a tail wind! The
reservoir is part of the Curecanti National Recreation Area. It was
fairly level on into Gunnison and with the tail wind I got there around
2 pm so I decided to go on to Parlin, 12 miles east of Gunnison. I quit
about 3 pm in Parlin, CO, and we drove back to Gunnison to get a motel.
We plan to try a Mexican restaurant that was recommended to us. Stats
for the day are 76 miles, 5650 feet of climbing, and an average speed of
14.2 mph. The strong tail wind helped raise my average speed which had
been fairly low due to the climbing.



Blue Mesa Reservoir
---
- June 13, 2002: Start In Parlin, Colorado (east of Gunnison)
Today I studied the map fairly carefully and saw that I was facing a
3200 foot climb to the 11,312 foot summit of Monarch Pass on US Hwy
50. I think this is the highest point on our route. Being a
breakfast person, I was looking forward to a big breakfast at The W
Caf?here we had eaten a couple years earlier. As is usually the
case, the breakfast wasn't quite as good as I had remembered but it
was still tasty and filling. I started riding about 9:30, and the
first 20 miles was fairly flat gaining only about 500 feet. This
part of Colorado is high plateau with a lot of lush meadow watered
from runoff from adjacent mountains. The next 10 miles or so was a
gain of about 2700 feet with a grade of 6.4% according to the
Colorado Bicycle map. I reached the summit about 12:30 and Carol and
I took turns being photographer as the other posed in front of the
summit sign. The scenery climbing eastward is pretty but there are
not the spectacular mountain views typical of Colorado passes. Going
down the eastern side, however, there are spectacular views with
rugged mountains reaching above timberline. My goal for the day had
been Salida, CO, but with a fairly good tail wind I got there about
1:30 and decided to continue riding. I got to Howard, CO, where we
stopped to eat lunch, and while we were eating the wind shifted about
180 degrees. After lunch I rode only about 4 or 5 miles and decided
that trying to fight the wind wasn't worth it so I stopped at 3:30
and we got a motel. Stats for the day are 72 miles, 4030 feet of
climbing, and an average speed of 15.4 mph.


Paul at Continental Divide
Monarch Pass view east side going down
---
- June 14, 2002: Start in Howard, Colorado (east of Salida)

I got a fairly early start today, getting on the road at 8 am. The
temperature was a little brisk, but the wind was fairly light, much
better than the previous afternoon. I had just a few miles left on Hwy
50, then I turned south onto a small winding back road that seemed to
climb forever! Early clouds obscured the beautiful Sangre de Cristo
range, but they later cleared so I could enjoy the view. The light
breeze increased in intensity as time passed. By about noon it was
becoming a real pain. After lunch I still had more climbing, but by
then it was compounded by the stronger wind. There were times when I
could only maintain 5 or 6 mph going up just a moderate grade. After
reaching the summit somewhere above 9,000 feet, I looked forward to a
long downhill. However, with the strong wind I often had to pedal hard
to maintain even a fair speed. The last 30 miles to Pueblo were mainly
a grind-it-out ride into the wind over rather arid land with hill and
valley after hill and valley! Not very pleasant. I finally quit in
downtown Pueblo, at the end of the Western Express bike route published
by Adventure Cycling. We got a motel and later enjoyed a very filling
Italian dinner. When we later checked the weather report, they said the
wind was about 26 mph with gusts to 30 mph. An even worse effect of the
wind is that the giant Hayman fire north of here is being whipped up by
the winds. Fortunately we have not been affected by any of the major
fires here in Colorado, not even seeing or smelling any smoke. One
thing I noticed in the Colorado mountains the last few days is the
number of deer carcasses resulting from road kills. It seemed like I
saw a carcass every few miles, some reduced to just bones by
scavengers. Stats for the day are 86 miles, 4540 feet of climbing and
an average speed of 13.1 mph. I spent as much time riding today as the
day I went 100 miles, but the wind slowed me down significantly.


Climbing in the morning
---
- June 15, 2002: Start in Pueblo, Colorado
I started this morning at 9:20 in downtown Pueblo. Saturday morning
traffic was rather quiet, and it was fairly easy to get out of town
although part of the route was essentially a freeway but with a big
shoulder. The weather was great-fairly cool, clear sky, and NO wind!
The terrain east of Pueblo is essentially flat, the road, had no
potholes, and I was able to make great time. The first 35 miles I
had an average speed of 18.7 mph, and that included the slower time
while still in Pueblo. At Fowler, CO, I made a two mile detour to
visit my cousin Margaret. We had lunch and conversation, and two
hours later I got back on the road. By that time, however, the wind
had started blowing moderately which of course reduced my speed. The
wind rapidly got stronger and storm clouds darkened the sky.
Lightning and rain were visible in the distance. Shortly the storm
started getting close, I was being blown around rather severely, and
sprinkles started turning to rain. I decided to jump into the van
and wait it out. Within 10 to 15 minutes it had passed and the wind
had calmed considerably, so I started riding again. The more the
wind calmed, the faster I could ride, and after a while I caught up
with the tail end of another storm. The rain started getting heavier
so I again utilized the van for shelter. Within a few minutes I was
again riding. The wind seemed to be rather variable both in
intensity and direction. I continued riding trying to get more
distance but finally decided to quit fighting the wind about 5 pm.
On the Weather Channel tonight, they reported baseball size hail
today in a county only about 60 miles north of our route, so we
obviously lucked out weather wise! Stats for the day are 82 miles,
1800 feet of climbing, and an average speed of 17.3 mph. I'm not
sure how I could get 1800 feet of climbing when the terrain seemed
essentially flat, but then I guess that isn't too much over 82 miles.
A cycling club around here would be hard pressed to find any hills
for Billy Goats, but they sure could have Wind Cycling, Ultra
Distance, and Storm Racing awards!




Paul & Cousin Margaret
Ominous Storm Clouds
---
- June 16, 2002: Start in Arlington, Colorado
Fathers Day. We had breakfast this morning in a little café in Eads,
Colorado, with "old-time" prices, at least on drinks. Coffee or tea
for 25 cents, hot chocolate for 35 cents! We met a group of four
cyclists there who were riding the same route except going west
instead of east. Three had Serotta bikes, the same builder as mine!
Unfortunately, one had crashed due to a rear tire blowout and
sustained a separated shoulder, so the group was taking him (in their
car) to an airport to return home. We exchanged info on experiences
and recommendations for eating places. I started riding about 9:20
with good weather and only a light breeze. Within an hour, however,
the breeze had increased to around 15 mph, mainly a front quarter
wind. The land here is utilized for cattle grazing or dry farming.
The drought in Colorado is very apparent. Crops which have been
planted, such as wheat, are thin and stunted. Several crops appear
to be in summer fallow in preparation for planting next year, but
with the drought the ground probably is not accumulating much
moisture. Around 2 pm and 62 miles, I reached the town of Sheridan
Lake, about 14 miles from the Kansas border. At that point, I left
the Adventure Cycling route and turned north, heading toward Wray,
CO, for my high school reunion. The formerly troublesome wind then
became a tail wind, allowing me to complete my second century of the
trip about 4:30. Stats for the day are 100 miles, 1890 feet of
climbing, and an average speed of 17.2 mph.


Ranch Sign Post near Cheyenne Wells
---
- June 17, 2002: Start 11 miles north of Cheyenne Wells, Colorado
I got on the road today about 9:10 after eating a big stack of
pancakes for breakfast. The wind was already around 10 to 15 mph and
from the west southwest. For days I have been riding eastward and
would have loved a west wind. Today I was heading north so I got
mainly a side wind, with a little tail wind component. The scenery
was more of the same, a lot of cattle grazing land and some farm
land. Some sprinkler irrigation provided green fields which
contrasted with the parched surroundings, although the further north
I went the better the wheat crops looked. There were a number of
canyons or valleys to cross which increased climbing over yesterday.
The temperature reading on my cycle computer increased steadily,
reaching 104 degrees the last time I looked at it. In the shade
during lunch, it was only 97! I stopped often when I reached where
Carol had parked to get more water, both for drinking and for pouring
over my jersey. The wind also increased to around 25 mph, and
shifted to a front quarter so I had to fight some head wind for the
last 30 miles. I was counting down the last few miles and was very
happy to reach the edge of Wray and coast down into the town. I
spent a few minutes riding around some looking at what had changed.
One thing I noticed was that the hills were not nearly as steep as
they seemed when I was a youngster delivering papers on my single
speed bike! Now that I have reached my initial goal of riding to
Wray for my high school reunion, I will take a rest and start riding
eastward again on the afternoon of Sunday, 23 June. Stats for the
day are 85 miles, 2550 feet of climbing, and an average speed of 15.6
mph. To get here from my Santa Cruz, CA start, I have ridden for 28
days over 1,900 miles and climbed over 100,000 feet. Distance per
day has ranged from 20 miles (due to weather) to 100 miles.

Rollin' Past Alfalfa Hay Bales
Yipee, I Made It To Wray!
---
- June 23, 2002: Start in Sheridan Lake, Colorado
We attended a Sunday morning brunch for my class at the home of one
of the class members, said our final good-byes, then started driving
southward to continue my cross country route. I started riding about
3pm in Sheridan Lake, Colorado in hot, but calm, weather. I was in
need of a restroom and saw a small park with a little restroom while
still in Sheridan Lake. The knob on the door was broken off but the
stub still opened the latch-to reveal a real old fashioned outhouse,
a two holer at that! Several miles down the road I saw a rather
unusual name for a creek-White Woman Creek. There's probably an
interesting story behind that name. Unfortunately, Carol didn't get
pictures of either the outhouse or the creek sign. The topography
here is quite flat, and with the small breeze I was able to make good
time. I soon crossed the state line into Kansas where Carol took the
standard pictures by the state welcome sign. Kansas has sunflowers
on their signs, but since they mow their roadsides there are no
sunflowers like I saw in Colorado! Instead of stopping at Tribune
after 30 miles as I had planned, I decided to ride to Leoti where I
stopped around 6:45 CDT. We crossed over the time zone line about 25
miles inside Kansas. Stats for the day are 52 miles, 210 feet of
climbing (I said it was flat!), and an average speed of 19.1 mph.


Welcome to Kansas
---
- June 24, 2002: Start in Leoti, Kansas
We had not adjusted to the change to Central time so we got up a
little late today. We had a good breakfast then I finally started
riding about 9:40. The wind was already 10 to 15 mph from the south
side. The land here is used primarily for dry land farming, mostly
wheat with some corn, less sprinkler irrigated corn, and finally some
grazing land that must not be suitable for farming. The drought here
is affecting the crops, but the wheat still looks fairly good. The
wheat harvest seems to be in full swing, with combines in many fields
and grain trucks going to the grain elevators that seem to be every
few miles. With the fairly flat land, I can almost always see an
elevator somewhere on the horizon. There are many convoys of custom
grain harvesters moving northward following the harvest.
Unfortunately they usually have oversized loads of combines, etc, and
although they are threatening because of the wide overhang they are
generally very careful drivers giving me lots of room when passing.
Many driving the opposite direction will wave and give me a thumbs
up. Of course, in rural areas it is common for drivers to wave
whether they know you or not so I try to do the same. As time
passed, the wind intensity increased slowly, ending up around 20 to
25 mph with gusts to around 30. My average speed dropped 3 to 5 mph
initially, finally dropping 5 to 10 mph simply due to the side wind.
The temperature got up around 94 to 97 degrees, and I was sweating
profusely. By the time I got to Ness City around 4:15, I was
definitely ready to quit-I was tired! Stats for the day were 80
miles, 710 feet of climbing, and an average speed of 15.1 mph.
Carol's input~Toward the end of the riding day I was invited by
12-year-old Dustin Johnson to take pictures of pigs on his familly's
farm. Dustin was Mr. Personality Plus and even showed me the cows.
Paul, of course, didn't know this and kept riding toward Ness City.
After the farm tour, I caught up with him quite a way down the road.
He definitely needed more water!




Grain elevator
Wheat
Dustin's Pig Tour
---
- June 25, 2002: Start In Ness City, Kansas
To avoid the winds that I fought all day yesterday, today I started
riding at 6:45. There was no wind and comfortable temps, so I made
good time. Within an hour, though, a breeze started. The land
changed from flat to gently rolling hills, the crops mainly from
wheat to more corn and pasture. There was a limestone quarry in the
area, so many of the old fence posts were solid limestone! After 30
miles, the route took a 19 mile jog south, directly into the wind.
Fortunately it was only around 15 mph, so although it was tough
riding at least I was able to grind it out. When I reached the Fort
Larned National Historic Site we had lunch then spent a couple hours
going through the museum and touring all the restored buildings. The
fort was one of several established to protect the Santa Fe Trail, as
well as fight Indians. It is amazingly well stocked with old style
uniforms, guns, beds, food, etc. Then just a few miles further we
stopped at the Santa Fe Trail Center, which had many excellent
exhibits plus several outside buildings such as a cellar house dug
into the sod, a sod house, school house, privy, windmills, etc. I
had intended to ride further but after spending so much time
sightseeing I decided to stop around 4:15 in Larned, KS, especially
since the temperature had been in the mid 90"s most of the day.
Larned still has many streets that are paved with brick, as does at
least one other town I went through today, so there must have been a
local brick factory. Stats for the day are 67 miles, 1060 feet of
climbing, and 13.9 mph average speed.



Limestone Fence Posts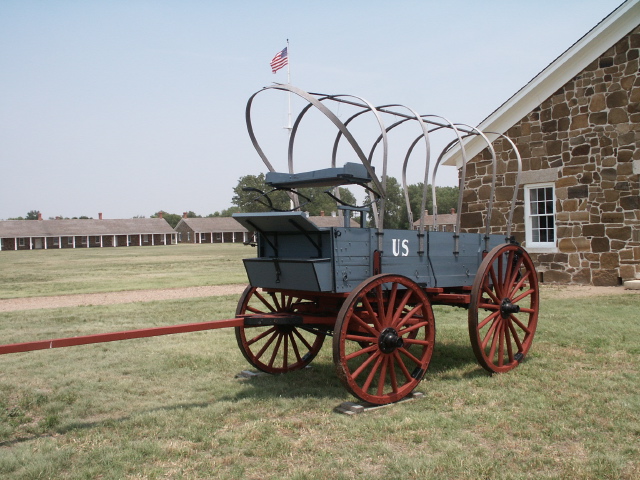 Fort Larned
---
- June 26, 2002: Start in Larned, Kansas
After eating some good blueberry pancakes I started riding at 8 am.
There was already around a 5 to 10 mph wind so I was rather
pessimistic about having to fight the wind all day. However, in
general the wind was no problem, actually decreasing a little most of
the day. What a difference! Riding was so much more enjoyable, even
though the temperature got to at least 95 degrees. I passed by the
Quivira National Wildlife Refuge, a salt marsh which is around 20 to
25 square miles in area. I was happy to see some box turtles similar
to the ones I used to see in sand hills when I was a kid.
Unfortunately I also saw some squashed on the road. Crops in one
small area had rather severe hail damage, especially the wheat. Most
of the wheat harvest has been completed around here. The light winds
allowed me to make good time, so I quit about 4 pm in Hesston, KS.
After dinner we drove north to McPherson, KS, to visit some friends
we hadn't seen for over 35 years and enjoyed talking most of the
evening. Stats for the day are 100 miles (my third century on this
trip), 860 feet of climbing, and an average speed of 16.4 mph.
Carol's input~It was fascinating to watch the turtle cross the road.
I watched it slowly cross, many times stopping to put its head inside
the shell as a car would go by. A big truck even went into the other
lane to avoid it. Possibly the drivers saw me standing at the side
of the road pointing my camera at the turltle. I was quite relieved
when the turtle made it safely to the other side.



Turtle Crossed the Road
Quivira National Wildlife Refuge
---
- June 27, 2002: Start in Hesston, Kansas
With no place in Hesston to get breakfast except fast food, I started
riding at 7:30 heading for Newton looking for food! There we found
the Breadbasket, a buffet style café. I chose the all-you-can-eat
plate and started in on the great fruits. I proceeded on to the
rest, trying a little of almost everything-even the biscuits & gravy.
I finished by having more of my favorite, pancakes covered with fresh
peaches. Even Carol liked it and she hates buffets! With such a
pleasant experience in Newton I started riding out of town, only to
run into a road closed due to rebuilding an overpass over an
interstate. There was absolutely no detour, or directions on how to
get across the highway! I backtracked half way across town and
finally took Carol's suggestion to use the van to circle around on
another overpass and drive to the opposite side of the overpass
construction where I resumed riding. At lunch time we lucked upon
the Cassoday Café, which had a sign advertising good food and gossip!
Cassoday is a wide spot in the road, with a short one block main
street and only one business open-the café. It was packed, with both
locals and visitors, and offered a great Kansas buffet. So for the
second time today, we both devoured some great food! I left with
water bottles filled with ice water, a lifesaver in the 95 degree
weather today. With essentially no wind again, I felt I could
probably ride another century to make two days in a row, but decided
to stop at 3:30 in Eureka, KS, the last town for a long way to have a
motel. Stats for the day are 85 miles, 1760 feet of climbing, and an
average speed of 16 mph. We had just a light "dinner" after pigging
out at breakfast and lunch!



Rolled Hay Bales
Cassoday Café
---
- June 28, 2002: Start In Eureka, Kansas
I started riding this morning about 8:30, nice temp, no wind. The
last couple of days I've seen a change from mainly wheat and corn
farming to some soy beans and grass and alfalfa for hay. I rode
through the Flint Hills, which has absolutely beautiful
grasslands-what cattle must dream of! There is obviously much more
precipitation here than in western Kansas, with even the roadside
ditches lush and green. After I had admired the grassland, I read a
historical marker that said back in the mid 1800s large cattle drives
brought cattle from the southwest for fattening before they were sent
to market. That still happens now, except the cattle are shipped
into the area-more each year than the total during the old-time
cattle drives. The wind was no problem today, but for the second
time in Kansas I ran into a closed road due to a bridge out-again
with absolutely no detour signs or information on how to get around
the closed section. The closest roads were gravel, and the map
showed rivers and marshes being obstacles. I wanted the shortest
detour back to my route, but ended up going a different route for the
rest of the day so as to not add too many miles. Near the end of the
ride, Carol and I lost track of each other resulting in some anxious
moments for each of us. This was compounded by the fact that the
only motel in Erie where we planned to stay was fully booked for a
wedding! After about 45 minutes we regrouped, then drove to Chanute,
KS for the night. It reached around 95 degrees and was muggy again
today, and even at 8:30 pm the bank sign said it was still 92
degrees. Stats for the day are 83 miles, 1860 feet of climbing, and
an average speed of 15.8 mph.
Carol's input~As I was driving along toward the end of the day, I
glanced over and saw some life-sized metal dinosaur skeletons in the
yard of a private home on highway 47 near highway 59. I turned the
car around, met Paul, and told him I was going to take a few pictures
of the dinosaurs. When I reached the junction in the road where we
were to decide which way to go, I didn't see Paul standing under a
tree across the road. This was the cause of our losing each other
for awhile. Even though we called each other on our cell phones,
they didn't ring and we were unable to get our messages. We had some
anxious moments but were quite relieved when we found each other.



Combine Harvesting Wheat
Metal Dinosaur Skeletons
---
- June 29, 2002: Start in Erie, Kansas
Today I started riding at 9:30, after having breakfast, getting some
groceries, and getting gas. It was already 84 degrees, muggy, with a
light south breeze. It was a fairly uneventful day riding wise,
although the temperature did get into the low 90s. I did finish
crossing Kansas and started into Missouri. Some of the signs and
business names I've seen have been humorous. One convenience store
had a name take-off from Stop-N-Go-it was called Git-N-Split. A
Chinese restaurant called Sum Ting Wong had a sign that said "Chinese
Food of the Future." Another business was called Peak's Retail
Liquor and Oil Company. I guess you can buy a bottle off booze while
you're having your oil changed. The good thing about the Adventure
Cycling route is that it takes back roads away from big towns and
cities. The downside of that is that our internet service provider
has access numbers only in larger cities so we have been unable to
get or send email or update my trip web site since we were in
Longmont, CO. So I decided to stop at 2:30 today to drive to
Carthage, MO, for the night so to we could get internet access.
Stats for the day are 61 miles, 1630 feet of climbing, and an average
speed of 16.1.
Carol's input~I missed a turn today and I almost lost Paul again for
the second day in a row!. I stayed cool, though, and found him.




Cross Over the Bridge
Chinese Restaurant
Welcome To Missouri
---
- June 30, 2002: Start 11 miles west of Golden, Missouri
I didn't start riding today until about 10:10 since Carol still had
some of the trip logs and pictures to upload to my website, we did
some sightseeing in Carthage, and we had to drive about 20 miles to
my start point. The temperature was around 84, and there was a south
southwest breeze around 10 mph or more. The small west component
provided a small but nice tailwind much of the day, except for the
few miles when the route went south directly into the wind. The
route initially had gently rolling hills with lush grassland and some
corn, but the hills progressively got more frequent and bigger,
eventually turning into a seeming endless series of
hill-valley-hill-valley-hill-valley, etc! I repeatedly went downhill
as fast as possible to build up momentum then pedaled hard to
maintain the momentum as long as possible climbing the next hill
before I finally had to grind it out to the top of the hill-and then
did it all again and again and again. I nicknamed it roller coaster
country. I guess that's typical of the Ozarks though. Although the
scenery was nice and green (in Greene County too!) with more and more
trees, the hills finally wore me out just past Fair Grove, Mo, so I
quit riding at 5:30 pm and we drove about 15 miles to Marshfield, MO,
for the night. Stats for the day are 83 miles, 4830 feet of climbing
(hill after hill), and an average speed of 15.7 mph.


Greene in Greene County
---
- July 1, 2002:Start in Fair Grove, Missouri
I started riding about 9 am after a leisurely breakfast. The
temperature was again in the mid 80s, with no wind. The roller
coaster riding continued, although the magnitude of the drops and
climbs diminished to some extent. There continued to be lush green
fields of grass and a lot of trees. Close by, there are several
sections of the Mark Twain National Forest but I haven't yet gone
through any. The Missouri roads I have been riding are fairly narrow
with absolutely no shoulder, some with white lines along the road
edge. In general the traffic is light, and most drivers give me
plenty of room with only the occasional "ignorant" driver getting too
close or honking. However, other cyclists have commented that
Missouri drivers have a bad attitude toward cyclists. Since eastern
Kansas I have seen more and more armadillo road kill---and I had
always assumed armadillos were desert animals. I also have seen
several turtle road kills. I have seen many live turtles too, but no
live armadillos-maybe it is a nocturnal animal. I decided to enjoy
the scenery and not push too hard, especially with the hills and the
climbing temperature. By the time I got to my destination of
Houston, MO, (with the biggest street named Sam Houston Drive), the
bank sign said it was 99 degrees although it didn't seem quite that
bad. Stats for the day are 77 miles, 4180 feet of climbing, and an
average speed of 15.6 mph.


Riding the Ozark Hills
---
- July 2, 2002: Start in Houston, Missouri
I started riding from the motel this morning about 8:40. The
temperature was about 84 degrees, no wind, but very muggy. The
Adventure Cycling Route map I am following labels this area as the
Ozark Mountains. The Missouri Vacation Guide says the area I have
been riding in the last couple of days is the Ozark Mountain Area,
and the route today is the Ozark Heritage Area. Based on my ride
today, I would definitely agree with the Adventure Cycling map! The
hills changed from the short up and down roller coaster type to the
Big Dipper type--giant hills and valleys. The valleys are much
deeper and the hills much steeper. My shifters and derailleurs got a
real workout. I would spin downhill in my very highest gear one
minute getting up to 40 mph, and a minute later be grinding up a very
steep long hill in my very lowest gear at less than 4 mph. A couple
times I even considered walking due to the steepness and the heat and
humidity but I never did. It was so humid I was constantly trying to
wipe the sweat off my forehead, even though it was futile to try. I
would then wipe my hand on my shorts, but they too were saturated so
that my fingers didn't dry. When I tried to shift, my fingers were
so wet they would slip off the shift levers, making it very difficult
to shift-and I needed to shift constantly! We passed through part of
the Ozark National Scenic Riverways and stopped at Alley Spring. The
spring flows 81 million gallons of water a day, and at one time was
used to power a wheat and corn mill which is now open for tours. The
many rivers are very popular for canoe trips, and several companies
rent canoes then bus people back from the take out spots. East of
Eminence, MO, there was a five mile climb which was really a series
of the increasing Big Dipper-type of hills and valleys. By the time
I reached Owls Bend, the temperature had climbed into the 90s and I
was tired so I stopped for a soda where Carol had parked. While I
was resting, a thunderstorm arrived and seemed to stay so I decided
to just drive on in to Ellington for the night. Stats for the day
are 59 miles, 4540 feet of climbing, and an average speed of 13.2
mph. The steep hill climbing definitely reduced my average speed.



Carol Wading at Alley Spring
Old Mill and Bridge at Alley Spring
---
- July 3, 2002: Start in Owls Bend, Missouri
I started riding at 8:30 this morning with the temperature at 73
degrees, no wind, and humidity almost dripping. The first several
miles were a continuation of the Big Dipper roller coaster, but that
slowly transformed to more gentle hills. The route sheet warned of
logging trucks between Ellington and Centerville, and sure enough
there were lots of trucks although only a few logging trucks. A few
were real SOBs , one honking and coming too close, and a whole line
of them that passed so close that I chose to take the gravel shoulder
for safety. Traffic coming into Farmington was almost freeway speed
and volume, except it was on a narrow two lane road. I was quite
glad to finish that stretch! In most of Missouri I have noticed that
both rural and town homes often have expansive lawns which are mowed
quite closely, including the roadside ditches in front of the houses.
I think most residents use riding mowers. I assume that rain keeps
the lawns green, since I haven't seen anyone watering yet. In fact,
if plants could get moisture from the air they wouldn't need any rain
with the high humidity in this area. I passed through Doe Run, MO,
under some lightning, thunder, and a few rain drops, then reached
Farmington about 2:30 pm and quit riding. Just an hour or two later
I heard that the storm in Doe Run was strong enough to uproot trees!
I guess I got through there just in time. Stats for the day are 72
miles, 4170 feet of climbing, and an average speed of 15.4 mph. I
plan to take a day off from riding tomorrow to celebrate the 4th of
July and maybe enjoy some local activities.

?

Climbing More Ozark Hills
The Big Dipper?
---
- July 5, 2002: Start in Farmington, Missouri
Yesterday, 4th of July, I didn't ride, but did get some bike
maintenance done-such as replacing my chain and cleaning up the bike
some (it gets rather dirty.) In the evening, we joined the local
townspeople in watching their fireworks show. It was in a farmer's
field across the road from the Civic Center, lasted about a half
hour, and was an impressive show for a town of only 11,000 people.

This morning I started riding about 9 am. It was already around 84
degrees and very humid, but no wind. I missed one turn on the route
and went about 6 miles before Carol discovered our mistake, so we
just drove back to the turn and I started riding again. Since I was
approaching the Mississippi river, I expected the terrain to get more
and more flat. However, the gentle hills leaving Farmington turned
again into roller coasters, so with the increasing temperature and
humidity Missouri extracted one last pint of sweat from me before I
reached the river. Just over the bridge into Illinois, we stopped
for lunch at Segar park. The park is named in honor of the Popeye
creator, who was born in the border city of Chester, but the only
statue is of Popeye. Passing through Chester I noticed the bank sign
read 99 degrees. I took the Mississippi levee route which I expected
would be fairly level and I hoped would give me a nice view of the
river. However, it is often a good distance from the river and is
somewhat hilly, but does provide some views. By the time I reached
Cory, about 11 miles beyond Chester, I was hot and tired and decided
to quit for the day. We drove back to Chester for a motel, and two
different bank signs read 102 and 106 degrees! The TV news was
featuring the hot weather, and advising restriction of outdoor
exercise so I guess I was right in stopping early. Stats for the day
are 64 miles, 3480 feet of climbing, and an average speed of 14.9
mph.



Bridge Over the Mississippi River
Welcome to Illinois
---
- July 6, 2002: Start in Cora, Illinois
I started riding today about 8:30 am, turning onto Levee Road along
the Mississippi River per the map-I was never able to see the river
from the levee though. However, the traffic was great, with no cars
either direction for the first 13 miles! The temperature was 82
degrees, a light breeze, and less humid than yesterday. The main
crop on the farms behind the levee seemed to be corn, which did
indeed appear to be as high as an elephant's eye. The other main
crop I think was soy beans. There must also be coal mines fairly
close, because trucks carrying coal were driving to docks to load
barges, and there was a large coal "depot" which appeared to be
loading rail cars. I discovered that Illinois also has some roller
coaster hills, though not so deep or steep as the Ozarks. By noon
the temperature was in the mid 90's with increased humidity, making
riding a little less pleasant. I rode a very pleasant, quiet road
winding through a heavily wooded area past the Crab Orchard National
Wildlife Refuge, but the only wildlife I saw was road kill-some frogs
and black snakes. I quit for the day at 3:45 just outside Goreville
so that we could drive to the closest town with a motel-Marion, IL.
Stats for the day are 68 miles, with 2990 feet of climbing and an
average speed of 13.9 mph.
Carol"s input~ Today's route was difficult with turns onto different
roads every few miles. Paul and I both missed some turns and our
cell phones came in very handy. I often try to park by the side of
the road at turns, but it is not always possible on these roads with
no shoulders. We had a picnic lunch in lovely Evergreen Park along
the route in Carbondale. It even had a restroom, which is not always
the case at the parks we've found on this trip.


Little Levee Rd.
---
- July 7, 2002: Start in Goreville, Illinois
I started riding this morning about 8:00, with a 73 degree temp,
minimal breeze, and moderate humidity. I was headed for the border
between Illinois and Kentucky, which where I crossed is defined by
the Ohio river headed to join the Mississippi river. It became quite
obvious that all the little rivers and creeks that feed into the
large rivers have cut significant valleys. Of course, that means
that the roads that traverse the area are almost continuously
climbing or descending, and that shows up in the amount of climbing I
did today. We had lunch on the bank of the Ohio river and watched a
tug and barge and a few small boats while we ate. About 10 miles
further in Cave in Rock, Illinois, we took a free ferry across the
Ohio river to Kentucky. I only spent about two riding days in
Illinois. The max temp for today was in the low 90s, and the
humidity wasn't quite so bad as it has been. I quit riding about
2:30 in Marion, KY, the last town for many miles that had a motel.
Last night we stayed in Marion, Illinois, so I guess we are the
Marion kind. J Stats for the day are 69 miles, 4510 feet of
climbing, and an average speed of 14 mph.




Carol, Picnic Beside the Ohio River
Ferry Ride to Kentucky
Welcome to Kentucky
---
- July 8, 2002:Start in Marion, Kentucky
I started riding this morning about 8, with a 73 degree temp, zero
wind, and moderate humidity. The big rollers near the Ohio River
from yesterday soon mellowed into moderate hills, with lots of corn
fields looking like they need moisture. Traffic was light, the roads
were good, and I was making good time. After riding about 15 miles I
came upon another cyclist, fully loaded with panniers front and rear,
working on replacing a broken spoke in his rear wheel. He, too, was
eastbound following the Adventure Cycling route. His name is Steve
Rose, San Francisco native, Berkeley grad who just finished his
master's degree at Georgia Tech, and is on his way to North Carolina
to his first "real" job. After he got his wheel back on, we rode
together for several miles talking about our experiences. He is
doing the trip the "hard" way, camping and doing most of his own
cooking. I must admit that I sure do like the hot shower after
riding and the nice cool air-conditioned motel room when it's 95
degrees outside! Carol and I had lunch in the small town of Sebree,
and enjoyed an old-fashioned milkshake in a drug store with a real
soda fountain. It's a good thing I'm doing a lot of riding every
day, because I'm sure consuming a lot of calories! I quit riding at
3 pm about 7 miles east of Utica, KY, and we then drove north to
Owensboro to find a motel. Stats for the day are 75 miles, 3420 feet
of climbing, and an average speed of 15.7 mph.



Paul Helping Steve Rose
Paul and Steve Riding Along the Kentucky Countryside
---
- July 9, 2002: Start 7 Miles East of Utica, Kentucky
I started riding this morning about 8:20, with the temp in the low
80s, little wind, but high humidity. Many of the towns today seemed
to be named after people-Whitesville, Deanefield, Fordsville, Axtel,
and McDaniels. In fact, many side roads have names of people, like
Claude Jones Rd, Blaine Evans Rd, Leon Nuckols Rd, Roy Cann Rd, Jack
Brown Rd, etc. (I'm not making these up, I got them from the phone
book!) I wonder if people paid the county or the state to get a road
named for them. This part of Kentucky continues to be hilly, though
the hills are longer and less steep than near the big rivers. The
temps climbed into the low 90s and the humidity was high again so I
was soaked most of the day. We stopped for lunch at the Rough River
Dam State Park. The park is very nice, with large grassy areas, a
marina, a free swimming beach with life guard, individual lodges, a
golf course, tennis courts, and picnic areas. Too bad it didn't have
air-conditioning and a dehumidifier! I crossed into Eastern Time,
and quit about 4 pm EDT in White Mills so we could drive south toward
Mammoth Caves which we plan to tour on a rest day tomorrow. The
Central/Eastern time zone line zigzags such that Mammoth Caves are in
Central time. Stats for the day are 77 miles, 4510 feet of climbing,
and an average speed of 15.1 mph.


Green Kentucky Countryside
---
- July 10, 2002: Non-riding Day Spent at Mammoth Cave National Park
Today Carol and I visited Mammoth Cave National Park. With over 350
miles of surveyed passageways, it is at least 3 times longer than any
cave known. We took the "very strenuous" 4.5 hour "Grand Avenue
Tour" walking 4 miles inside the cave. Mammoth cave is essentially a
vast underground network of streambeds formed by rainwater that
soaked through cracks in the limestone and slowly cut tunnels or
canyons. It can be compared to narrow canyons cut by rivers in Utah,
except the canyons at Mammoth Cave are underground. Over the
thousands of years taken to form the cave, the Green River, which
drains the cave area, has itself cut down lower and lower so that the
current water level in the cave is much lower than most of the cave.
The cave floor is littered with boulders that were loosened by water
and then fell when the water receded. There is only a very small
area of the cave that has features such as stalagmites, stalactites,
flows, etc, so it is not nearly so beautiful as Carlsbad Caverns, for
example. It is famous primarily for the large size of the cave
network. We also took a 7 mile trip along the Green River on a
riverboat during which we saw wood ducks, turtles, deer, and wild
turkeys. I would recommend the cave tours, but I could do without
the river trip. Carol liked both.



Paul in Mammoth Cave
Green River
---
- July 11, 2002: Start in White Mills, Kentucky
I started riding this morning at 9:45 EDT. The temp was in the low
80s, humidity not bad, and a light breeze. Today turned out to be
more sightseeing and less riding. The biggest crop in Kentucky is
tobacco, but I have not seen very much of it growing. Instead, there
seems to be a lot of land that is not being utilized productively.
We spent some time talking to an 87 year old retired farmer by the
name of Madison Mather at his farm near Hodgenville, KY. He rents
out his land, but still works on it. Madison says that the government
limits the weight of tobacco he can sell each year, with the amount
decreasing annually. He is able to grow enough in one year to supply
three years of tobacco sales, which he can do because the tobacco can
be stored. I assume this program is a method the government uses to
try to get tobacco growers to switch to other crops, but when I asked
Madison if he is growing anything else, he said only rye grass for
use in horse stalls and also soy beans. I have seen quite a bit of
soy beans plus some corn and wheat, but I don't know if they are in
place of tobacco. He proudly brought out a 1955 display of five
different kinds of tobacco with which he had won prizes at fairs.
Later we stopped at the Abraham Lincoln Birthplace National Historic
Site. I guess I just assumed Lincoln was born in Illinois, "The Land
of Lincoln," but he was born in Kentucky and spent many years there
and in Indiana before he went to Illinois. I decided to shortcut the
Adventure Cycling route that loops northward to Bardstown and back
south to Springfield, and stopped for the day at 5 pm outside
Loretta, KY, headed for Springfield. We drove to Lebanon to find a
motel. Stats for the day are 64 miles, 3000 feet of climbing, and an
average speed of 14.8 mph.




Share the Road
Madison Mather With His Tobacco Display
Paul and Madison in the Tobacco Field
---
- July 12, 2002: Start in Loretta, Kentucky
I didn't start riding today until 11:45 because we spent a lot of the
morning touring the Maker's Mark bourbon whisky distillery just
outside Loretto, KY. They have a very small production, 350,000
gallons per year, which is only 1/30th of what the Jim Beam
distillery produces. They use iron-free limestone spring water along
with locally produced corn, red winter wheat, malted barley, (no rye)
and yeast to produce the whisky, then age it for about 6 years in
charred oak barrels. They claim that there is a limited geographical
area that has similar water, which is why most whisky distilleries
are in Kentucky and Tennessee. They brag about the way they hand dip
each bottle top in the red sealing wax. Of course, they claim the
higher price of their bourbon is justified by the premium taste, but
having never tasted it I don't know if they are right or not. The
rest of the day was fairly straightforward, with a little more roller
coaster riding. I quit about 4:15 just past Harrodsburg at Burgin. I
discovered that my rear derailleur cable was frayed so after we got
to the motel in Harrodsburg I had to replace it. Stats for this
short day are 47 miles, 2950 feet of climbing, and an average speed
of 13.9 mph.
?

Does Maker's Mark Taste Like Bread?
---
- July 13, 2002: Non-riding Day In Harrodsburg, Kentucky
Carol and I decided to spend the day sightseeing at the Shaker
Village of Pleasant Hill, KY, and at Fort Harrod, KY. The Shakers
are a religious sect, called the United Society of Believers in
Christ's Second Appearing, that was founded in England. They were
nicknamed Shakers because of their trembling or shaking in worship
services. They were a communal group that lived a simple life
striving to do everyday tasks the best they could, and were a
successful organization for many years. They embraced modern
technology and were known for their high quality products such as
herbs, seeds, and brooms. They also smoked and drank alcohol-in
moderation of course. However, their belief in celibacy required
that sect growth come from converts, so membership eventually
declined to less than ten members left living, all in New York. The
village we visited was started around 1805 and closed in 1910, but
has been restored and furnished with Shaker furniture as well as
tools and equipment used in farming and daily tasks. Various crafts
such as shoemaking, oval box making, woodworking, spinning, weaving,
even laundry were demonstrated.

Fort Harrod is a restored fort that also has period furnishings, but
more from the mid 1700s with frontier type tools and implements. The
museum has Union and Confederate rooms-with the Confederate room much
more fully "stocked" with items. They also had several collections,
including musical instruments, pistols and rifles, arrowheads, etc.



Ready to Make Cider
---
- July 14, 2002: Start in Burgin, Kentucky
After a day off sightseeing I started riding this morning at 8:45
with the temp at 68 degrees, no wind, but very humid. I soon got
into some hills that were moderate roller coasters. One road
reminded me of Zayante or Tunitas Creek in the Santa Cruz
Mountains-it was narrow, tree shaded, and had significant climbing.
I have ridden over three thousand miles without so much as a single
dog chasing me on the road, at least until this morning. Within the
first two hours, I had four dogs that came out running and barking
onto the road chasing me. One was just a little yipper, but one was
a collie and one a lab. The collie spotted me before I got to his
yard and raced over to where he could get a good angle to chase after
me. Fortunately, they didn't bite me and I was able to outrun them
all. Obviously, dogs don't appear to be fenced or restrained around
here! We stopped for lunch In Berea, KY, "The Folk Arts and Crafts
Capital of Kentucky." We discovered the annual Craft Festival was
being held this weekend, so we decided to check it out. It was an
interesting festival, but we didn't think it was up to the caliber of
California art fairs such as the Kings Mountain Fair. We later
looked through several craft shops in town but again didn't find
anything we had to have. By the time we finished playing tourist it
was too late to start riding again so we just stayed in Berea. Stats
for the day are 43 miles, 2920 feet of climbing, and an average speed
of 14.9 mph. Sightseeing is fun, but it sure is reducing my daily
mileage average!


Stone Fence Near Shaker Village of Pleasant Hill
---
- July 15, 2002: Start in Berea, Kentucky
I started riding at 9:15, temp around 68, high humidity and very
hazy. Earlier it was so humid there was fog. The first town on my
route was Bighill, but fortunately the road went around rather than
over the big hill. The hills at first were like mounds, or knobs as
they are called here, and the road winds around them. However, I
must have started into the Kentucky Appalachians, because today I had
the most climbing yet on the trip. A lot of the climbing wasn't too
bad, but the climb out of Buckhorn would make a very respectable
Billy Goat for ACTC if it were in the San Jose area. This is big
Daniel Boone country. In Berea the college runs the Boone Tavern
Hotel, I rode through Booneville (pop 191), and tonight we stayed in
the Daniel Boone Motor Inn in Hazard, KY. (I suspect ole Daniel may
have actually slept on the bed we got!) Hazard is a soft coal mining
center, and I have seen evidence in the form of pieces of coal
dropped along the side of the road. I only had one dog run out onto
the road to chase me today, but I heard a story yesterday from two
cyclists who had three dogs chase them from one side and two from the
other side. Only a pannier of one cyclist was bitten. Although I
had not planned to ride over 60 or 70 miles, in order to get to a
motel I rode exactly 100 miles making my fourth century on this trip.
I quit about 6:30. Stats for the day are 100 miles, 7420 feet of
climbing, and an average speed of 14.6 mph. I'm tired tonight!


Beautiful Green Countryside
---
- July 16, 2002: Start in Hazard, Kentucky
Fog this morning-I didn't start riding until 10. The first 7 miles
were on a main highway, and on that section I again met Bob Phippen
from Chico, CA, whom I had first met yesterday. Bob is riding the
Adventure Cycling route too, and was tired of small back roads with
big trucks. He planned to ride the main highway that connected to a
town on the route where he wanted to stay tonight. It was a longer
distance, but there was a wide shoulder with a rumble strip between
the traffic and the shoulder. So I agreed to ride the same route,
since Carol had seen a lot of coal trucks turning onto the small road
the route sheet listed. The main highway, state route 80, had many
hills but the grades were not steep and it had large cuts and fills
that reduced the climbing. Unfortunately there were a lot of rocks
and other debris on the wide shoulder that limited downhill speed and
sometimes forced us to ride to the left of the rumble strip. The
last 13 miles went down to a narrow two lane road with lots of coal
trucks and commute traffic, often with no shoulder, so that part was
rather nerve racking. Overall, riding on the main highway was
probably easier than the back roads route, but there was constant
traffic noise such that I don't plan to try that again. I stopped at
6:15, but the motel we had planned to stay at in Elkhorn City did not
have non-smoking rooms so we drove a few more miles into Virginia to
stay in Breaks, VA. Stats for the day are 85 miles, 4090 feet of
climbing, and an average speed of 14.5 mph.


Paul and Bob Phippen Discussing Route Change
---
- July 17, 2002: Start in Elkhorn City, Kentucky
Started riding at 8:45 after driving back to Elkhorn City, KY. I
planned to ride about a half day today so that we could drive to Ft
Mitchell, KY, (across the Ohio River from Cincinnati) for the
convention Carol will attend. Got to the Virginia state line in 2 or
3 miles and stopped for the standard picture of the "Welcome to
Virginia" sign. That's eight of the nine states I am riding across,
so only Virginia to go to get to the Atlantic Ocean! I passed the
Breaks Interstate Park. I think breaks in this context means rugged
terrain-if not, then I will make that interpretation because after
the "town" of Breaks there is a two mile climb followed by some more
climbing. I was grinding along in my lowest gear several times, not
only because of the grade but also because the high humidity caused
generous sweating even though the temperature was probably only
around 85 to 90. The route seemed to follow a river, then cross over
hills to another river, then repeat several times. The hills here
were long, not roller coasters. The upside is that the hills are
beautifully green and lush, lots of trees (hardwoods are cut in this
area for lumber), and lots of vines growing along the road and even
climbing trees and poles. I stopped at Rosedale at 1:15, but with
all the climbing I felt like it was a full day of riding! We then
jumped on a major highway and drove to Ft Mitchell, where Carol will
enjoy the convention for three days. Stats for the day are 46 miles,
5060 feet of climbing, and an average speed of 11.9 mph.



Welcome To Virginia!
Roadside Vines
---
- July 22, 2002: Start in Rosedale, Virginia
Here it is Monday morning after four days not riding while Carol was
attending the ventriloquist convention. On the drive back to where I
quit riding, we drove the route section that I had skipped in
Kentucky by riding the main highway. I discovered that although
there were at least four significant climbs, it was probably no more
climbing than on the route I took. The roads were narrow but
beautiful, with minimal traffic probably because it was Sunday. Even
with traffic, I would have preferred it to the busy main road.
Today, I started at 9:30 expecting more hills, and I soon started
climbing. The soil in the Appalachians appears to be shallow, and
some fields demonstrate that with solid rock outcroppings all over.
I can't tell if the wooded areas are that way too, or if the fields
suffered extensive erosion after the trees were cut. In many places
the streams have bottoms of solid rock, which I would guess is the
origin for the expression "He's reached rock bottom," meaning he
can't go any lower. After lunch, I rode until 2:30 when a
thunderstorm developed and I took refuge in the van. We waited an
hour for it to move on, but since it didn't we decided to drive to a
motel and try again tomorrow. With the heavy rain we got on our way
to the motel in Chilhowie, VA, I think it was a good decision to
quit. Stats for the day are 49 miles, 4040 feet of climbing, and an
average speed of 13.8 mph.


July 23, 2002: Start in Konarock, Virginia

I started riding this morning at 8 am trying to avoid the afternoon
thunderstorms. The route in this area seems to meander around the
Shenandoah Valley generally paralleling Interstate 81 and also the
Blue Ridge Parkway. I rode through the Mount Rogers National
Recreation Area that contains the highest point in Virginia, Mount
Rogers at 5,729 ft. The road was over 3,600 feet, but fortunately
the climb was not steep, probably around a 6% grade. Later in the
day I had many rollers that provided plenty of climbing. I have
crossed the Appalachian Trail at least three times, and have seen
groups of backpackers. With the high humidity and almost daily
thunderstorms, they're probably always wet! Virginia seems to number
every road, but the route jumps from road to road to road, so it's
really a challenge to avoid getting off the route. However, Virginia
does something no other state has done, and that is to give the route
a designation as Bicycle Route 76 and posts signs at many turns.
The signs have really been helpful. The 76 may be a recognition that
BikeCentennial (now Adventure Cycling) established their
Transcontinental route for the USA bicentennial in 1976. I reached
Christiansburg, my goal of the day, at 4:20-just as it started
raining! Stats for the day are 101 miles, 6470 feet of climbing, and
an average speed of 15.5 mph. Today was my fifth century of the trip.


76 Sign
---
- July 24, 2002: Start in Christianburg, Virginia
I started riding this morning about 7:15, and immediately my aching
muscles and sore bottom told me they had not had enough time to
recover from the 100 miles yesterday. So I knew right away that
today would not be another century day. The temperature was around
65 degrees but the humidity was very high. The first part of the
ride was on a very scenic, winding road that provided lots of
mini-roller coasters. Where the route is very close to the
interstate, it looks like many of the old farms have been sold to
"modern" folks who live in the country but commute to the cities like
Roanoke and Lexington for work. There doesn't appear to be much
farming going on. I stopped to admire one old building by a stream
that I guessed might be an old mill. Then close by I saw a unique
picnic table made with a large millstone, so I think my guess was
right. After lunch, the route followed a frontage road along
Interstate 81. Unfortunately, that resulted in my getting some of
the disadvantages of both! The narrow frontage road strictly
followed the roller coaster land contour, with no cuts or fills like
the interstate, so I was constantly working to climb hill after hill
while I shared the road with a stream of gravel trucks. At the same
time, I was bombarded by the loud truck and car traffic from the
interstate. However, the rain held off until I reached my stopping
point of Natural Bridge. Stats for the day are 74 miles, 4780 feet
of climbing, and an average speed of 14.6 mph.
Carol's input~
We ate dinner at the Pink Cadillac Diner which is about six miles
from where we ended the riding day near Natural Bridge. There was a
'53 pink cadillac out front and the building was painted pink.
Inside there was lots of 50's memorabilia displayed on the walls,
including a life-size Elvis bronze statue. Fifties music was playing
throughout the whole dinner which was inexpensive and good. In fact,
we had breakfast there the next morning since it was conveniently in
front of our motel.



Railroad Bridge
Pink Cadillac Diner
---
- July 27, 2002: Start in Reeds Gap (Blue Ridge Parkway), Virginia
It was raining and foggy on 7/26, the day after I last rode, so Carol
and I just relaxed and did a little sightseeing around Waynesboro,
VA. This morning I started riding at 9 am. It was somewhat hazy,
but it wasn't raining or foggy. The visitors center along the
parkway had an old mountain farm assembled from authentic buildings
collected from around the area. The settlers were quite ingenious in
their use of primitive materials, including building a bear proof hog
pen. The Adventure Cycling route seemed to meander around even more
than usual after it left the parkway, so I took a couple shortcuts.
I was near Charlottesville when it started raining, so I stopped for
lunch in the van. After lunch it was still raining but I decided to
go ahead and ride since I had no idea when it would stop. So I made
my way through the Charlottesville route maze and traffic in the
rain, then on out past Monticello (Thomas Jefferson's home) and Ash
Lawn (James Monroe's home.) Since Carol and I had already toured
Monticello a few years ago we didn't stop today. The rain slowly
stopped and the sun came out within a couple hours providing
beautiful riding. I wanted to get as many miles in as I could today,
so I kept riding until 5:40 then stopped near Interstate 64 so we
could drive to a motel. Stats for the day are 86 miles, 5610 feet of
climbing, and an average speed of 15.1 mph.




Hazy View Along Blue Ridge Parkway
Carol On Stone Fence, Bear Proof Hog Pen On The Left
---
- July 28, 2002: Start in Tabscott, Virginia
Today started off great with the news that all nine miners trapped
for three days in a Pennsylvania coal mine were rescued alive!! I
started riding at 9:15 with the temp in the high 70s, high humidity,
and a forecast for a hot, humid day. Again today I took a couple
shortcuts to avoid loops on the route going somewhere of no interest
to me, so I saved a few miles. A lot of the route today was heavily
wooded country, although most of the trees seemed to be fairly small
in diameter. The route came close to Richmond, so it seemed there
was a Civil War historical sign on every corner about this battle or
that battle or some skirmish, etc. I stopped at a couple National
Park Service visitor centers that had displays and audio narrations
about local battle sequences. I guess I agree that the history
should be remembered and documented, but I don't think the Civil War
should be glorified. Some southerners seem to still be fighting the
war, and I have seen Confederate flags flying from many, many houses.
My jersey was soaked within a half hour of starting riding because of
the high temp and humidity. The temperature was 98 degrees the one
time I looked at my thermometer, and I was constantly wiping the
sweat off trying to keep it out of my eyes. Later on the TV news
reported temps near 100 and a heat index as high as 120. I quit
riding at 4:15 at the Glendale Visitors Center of the Richmond
National Battlefield, which also has a National Cemetery. Stats for
the day are 81 miles, 2630 feet of climbing, and an average speed of
16 mph.


Too Hot!
---
- July 29, 2002: Start in Glendale, Virginia
I started riding at 8:15 trying to avoid the predicted high temps
today (although it still got very hot and humid by the time I
finished.) After seeing a few more Civil War historical signs, I
rode close enough to the colonial areas (Williamsburg, Jamestown,
Yorktown) that I began seeing colonial and Revolutionary War
historical signs. There are old plantations, some from the early
1600s, old residences of presidents and other famous figures,
miscellaneous other old buildings and sites, and battle sites at
Yorktown. Yorktown has a very tall and impressive Victory Monument
commemorating the last major battle of the Revolutionary War in which
Washington defeated Cornwallis. The route followed the Colonial
Parkway for the last 25 miles from Jamestown, through Williamsburg
and on to Yorktown. The Parkway is nice in that it is three lanes
wide (with no lane markings), allows no commercial vehicles, is very
scenic with trees and water views, and has numerous pullouts with
historical markers. However, it is concrete with an exposed
aggregate surface which is very rough resulting in very unpleasant
riding, though not as bad as cobblestone. I got into Yorktown about
1 pm and rode to the Victory Monument, the final destination of the
route. We took pictures there and on the beach below, then went to
the Colonial National Historical Park that has information about the
final Yorktown battle. So I finally completed my cross-country
cycling tour, and Carol completed her cross country driving trip!
Stats for the day are 64 miles, 1310 feet of climbing, and an average
speed of 16 mph. My total riding was 4006 miles in 57 days,
including the side trip to my class reunion, giving an average of 70
miles per day. Total climbing was 200,000 feet based on my cycle
computer (which may be around 10% high.)






Colonial Parkway
Paul Riding on the Colonial Parkway
Paul at Yorktown Victory Monument
Carol & Reginald Rabbit at Yorktown Shore!
Paul at Yorktown Shore!